Sterbend are a five piece band from Greven in Germany. Formed in the year 2000, Sterbend consists of several members of both Nyktalgia and Krieg respectively. As you'd expect from a band consisting of several members of Nyktalgia, Sterbend are considered a "Depressive" or "Suicidal" Black Metal outfit. Their Lyrics are english and german. The Vocals are very high (similary as Aaskereia). There debut album"Dweling Lifeless" let the listener remember to Burzum/Nargaroth. Sometimes a little bit to very... but all in all its good produced and also the instrumental skills of the musicians of "Sterbend" is exellent.

Sterbend - Dwelling Lifeless [ 2006 ]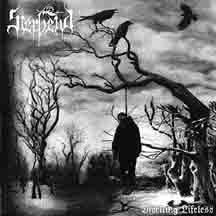 Download here => rapidshare part I , rapidshare part II


Buy it if you like it !!